Man, when So Delicious reached out to me about their new flavors of coconut milk ice cream, I was like, "GIMMEEEE!!!" Ha, I totes had a juice cleanse lined up for the week these babies arrived at my doorstep, but sometimes you gotta prioritize dessert, know what I mean? 😉 Cleanse got bumped from my jam-packed ice cream-eatin' calendar, and "research" began. 😉
The two new flavor flavs of So Delicious coconut milk ice cream are Simply Strawberry and Oregon Mixed Berry – total fruity bliss, y'all.
I dunno if you know this, but I recently relocated to Oregon, and I can attest that the berries here are beyond the sh*t. This ice cream is perfectly sweet and creamy and has chunks of organic marionberries and red raspberries throughout. Of the two new ice creams flavors, this one especially stole my heart. And as you can tell from my pic above, I dollop-ified dat sweet ish with massive amounts of So Delicious CocoWhip – YUM. 🙂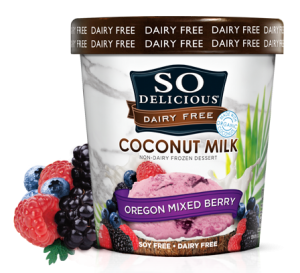 Simply Strawberry is quite lovely, too. It's a bit more subtle in flavor and doesn't have chunks of fruit like Oregon Mixed Berry, but it has tons of fun lil' strawberry seeds. LOVE that they use organic ingredients including non-GMO Project Verified coconuts for these yummy treats.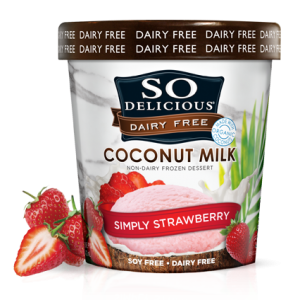 Who's excited to try these new So Delicious ice cream flavors? 😀
Longtime vegan, hardcore compassionate beauty junkie, serious cake aficionado, and lover of all things floofy and sparkly! If there's something in particular you'd like me to review, drop me a line at Sunny@VeganBeautyReview.com. You can also find me on
Facebook
,
Instagram
,
Twitter
,
YouTube
, and
Google +
.
Filed in: vegan food Tags: coconut ice cream • dairy free ice cream • ice cream • organic ice cream • So Delicious • soy-free ice cream • vegan ice cream